The multiplayer maps for Call of Duty: Black Ops 4 have been revealed just 3 days before the game launches on October 12th. The reveal came in the form of an in-game menu screenshot which was spotted over at Reddit: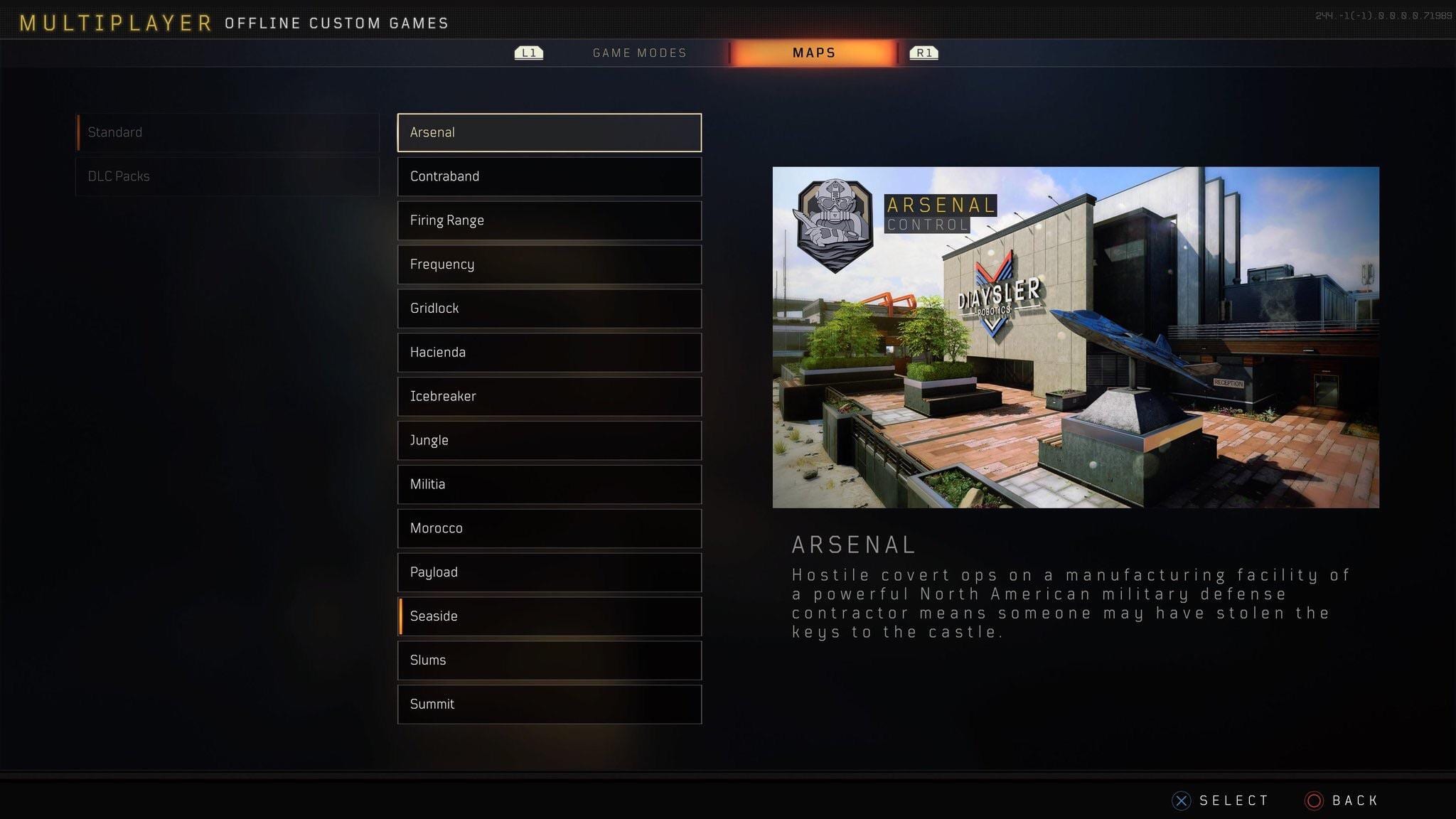 There's no images, just a list of maps, so it's not exactly helpful, but we've taken a stab at guessing what the maps will be like in the list below (again, we've not been helpful at all).
Arsenal – No idea – maybe football related (come on you Gunners!)
Contraband – No idea, but it must be drug related
Firing Range – You'll be fighting on a firing range, we've seen this map before
Frequency – Looks like you'll be fighting it out on a radio tower
Gridlock – Maybe you're fighting in rush hour in New York
Hacienda – Not sure, I can't even pronounce it
Icebreaker – Ah, this one's easy, it's an ice map right?
Jungle – You'll be fighting in a forested area, we've seen this map before
Militia – Maybe another forest map, that's where the Militia hangs, right?
Morocco – Got to be a desert map
Payload – Overwatch map? Must be.
Seaside – Ah, you'll be fighting on the Cornish coast
Slums – You'll be fighting in the slums, we've seen this map before
Summit – Ice map on top of a mountain, we've seen this map before
Okay, so now you know exactly what the maps will be like. You'll also notice that out of the 14 maps on offer, only 10 of them are new; we've seen Jungle, Slums, Firing Range and Summit previously, so they're just remakes (hopefully 'improved' remakes rather than just a graphics update). As well as the 14 maps listed above, we also know that there will be another map launching in November. That's right, it's the map everyone has been waiting for – Nuketown.
From what we've played of Call of Duty: Black Ops 4 it's set to be a great game. In our opinion, it was the best Call of Duty game we've played for many years and the Battle Royale mode was surprisingly enjoyable. As mentioned previously, the full game will release this Friday.
It's a good couple of months for gaming, with Call Of Duty on Friday, Red Dead Redemption 2 towards the end of the month and Fallout 76 next month, as well as the games that have released in the past week including Assassins Creed Odyssey, FIFA 19 and Forza Horizon 4 – the hard part now is choosing what to bloody play, and that leads me onto a little rant. Why have all these great games released at the same time? We've had months of boredom with no big games releasing (unless you have a PS4 of course) and now we have too many, it's obviously because of Christmas, but it's still frustrating.