Following on from the news that Blizzard is bringing back Overwatch's Halloween Terror event, we can now confirm that Blizzard is also serving up another dose of Hearthstone's own Halloween-themed event, Hallow's End. The event will be back from Wednesday 17th October and will run until the end of the month.
The big news for the event is that you'll be able to purchase a new Paladin Hero, Sir Annoy-o, for the duration of the event. Elsewhere, all players that login to Hearthstone during the event will grab themselves a free golden Witch's Cauldron card and there's a new Tavern Brawl to play called "Monster Smash!". Other than that it's pretty much going to be business as usual, with the Headless Horseman returning to Tavern Brawl and the Dual Class Arena reappearing too. Expect the game to be covered in Halloween-themed decorations, and I'm sure there will be a few fresh emotes for you to annoy your opponent with.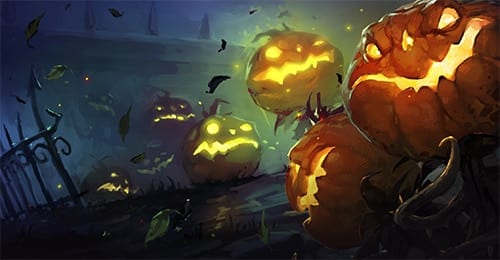 Don't forget that Hearthstone's 12.2 update is already live too, offering an improved experience for new players with the introduction of new player ranks. If you were thinking of giving Hearthstone a whirl, now is the perfect time to do so.