I have great news for all of you farming fanatics out there, Eric "ConcernedApe" Barone's spiritual successor to the Harvest Moon franchise is finally making its way to a mobile phone near you, via iOS and Android.
Stardew Valley, the hit indie farming roleplaying game—which was, by the way, created by one dude in his free time—has gone from strength to strength since its initial release in early 2016. Originally released on PC, Stardew Valley is now pretty much available on every current gaming platform, so it's not at all surprising that mobile phones will be the latest devices to host this gem of a game.
Stardew Valley on mobile is being handled by the studio The Secret Police, and will include the single-player content for the most recent 1.3 update on PC. Unfortunately, this will exclude the multiplayer action and, of course, modding. What we are getting, however, is the full-on Stardew Valley experience, with Eric Barone quick to mention that fact in a recent blog post: 
"It's the full game, not a cut-down version, and plays almost identically to all other versions," he wrote. "The main difference is that it has been rebuilt for touch-screen gameplay on iOS (new UI, menu systems and controls)."
This is fantastic news. So many mobile ports of our favourite games get the dumbed-down treatment. To be able to have the full version of Stardew Valley, constantly at our fingertips, will no doubt be transforming the lunch breaks of farming fans worldwide. It certainly will ours.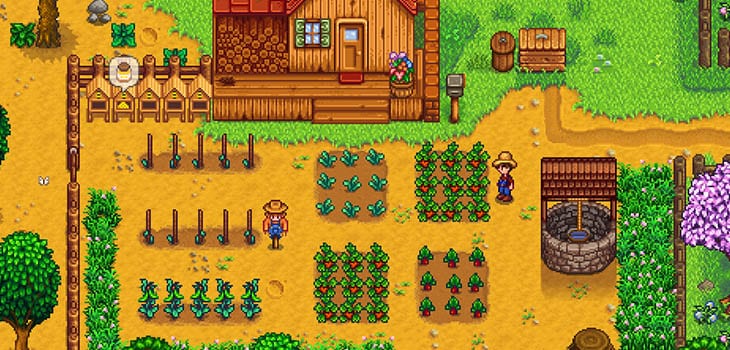 Also included for PC players will be the option to transform saved data to the iOS version via iTunes. This may sound like a simple feature, but given how some of the most dedicated farmers have put hundreds of hours of work into their farms (namely our resident Stardew Valley expert Chris/HotDogBoy), this feature will be greatly appreciated amongst fans.
Stardew Valley will release on iOS devices on October 24, priced at £7.99/$7.99 and will, pay attention kids, feature no in-app purchases whatsoever. Gaming done right.
Android owners will have to wait a little while longer, with that versions launch details to follow in the near future.
If you're a fan of Stardew Valley, why not head on over to our YouTube channel where you can find our video series which follows our doomed-to-fail attempt at making a successful farm.