Bethesda has finally announced when you can get your hands on the beta of Fallout 76. We've seen our beta code just sitting there gathering dust for the past couple of months, but now we have just a little longer to wait. The beta will begin on October 23rd for Xbox One players and on October 30th for PS4 and PC players. In order to play the beta you will, of course, have to pre-order the game; once you have done so you will be given a beta code which you have to input on the Bethesda website here, you can input your code now if you have it and when the beta launches you will be sent instructions on how to join in.
There's no exact specifics on how long the beta will last but Bethesda has said that it will run until just a few days before launch (November 14th), so going by that it will last around two weeks (longer if you're playing on the Xbox One), which is a pretty great length of time for a beta.
However, there is one negative – Bethesda has said that the beta servers will not be online 24/7. Instead, they will be online for specific hours in the day so that they can concentrate player numbers and stress test their servers as well as make changes and fixes. Their FAQ's read:
---
"On any given day the game might be up for anywhere between four to eight hours. Focusing as many players as we can into these windows is our prime objective. Then we'll fix what we need to fix and do it again and again from the start of B.E.T.A. until a few days before launch. We'll give you as much heads up as possible because we need you to log in during these times and play the game."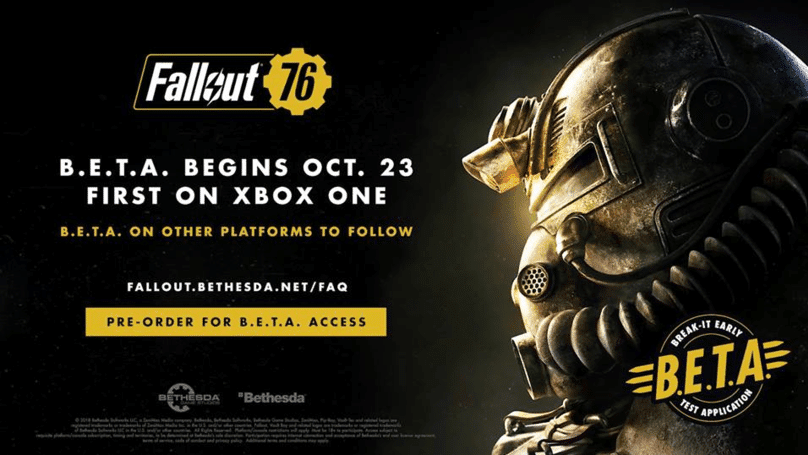 ---
This is a pretty unique thing for a beta to do (largely because a lot of betas are glorified demos these days) but it should mean that by the time the full release comes around the game should have a very stable launch. If you're not already, it might be a good time to follow the Fallout Twitter page as they will most defiantly be releasing the times on there.
Bethesda also released a short game intro video to go alongside the beta announcement, which you can see below:
You will be playing the full game during the beta, so you'll have the full Fallout 76 experience. Bethesda has also said that they intend to allow your saves from the beta to be carried across to the official release on November 14th which is great news – let's hope they stick to that.
It goes without saying, but you will need an Xbox Live Gold membership or a PlayStation Network account (depending on the console you're playing on) in order to be able to play the beta.  You will also need a Bethesda account which you will create when signing up for the beta anyway.
We can't wait until October 23rd, it will be interesting to see what they've done – this will, of course, be the first time Fallout has ever been online.